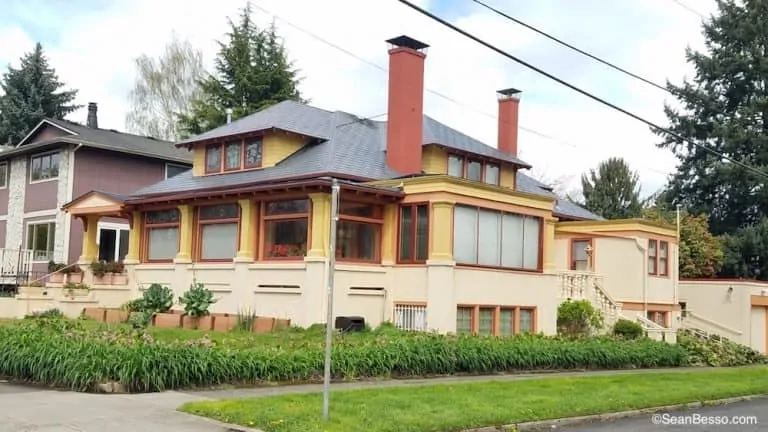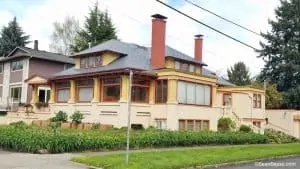 On this Architectural Heritage Center's Walking Tour, Jim and Robert lead us through Portland's Sullivan's Gulch neighborhood. Tucked in between the Irvington neighborhood (which is north of Northeast Broadway) and I-84 in Northeast Portland, Sullivan's Gulch is named for Thomas Sullivan. Sullivan received the land as a donation land claim in the 1860's and had a cabin on the edge of the Gulch. When Sullivan died, he left all of his land to his daughter, who became a nun and donated the 360-acre parcel to Sisters of Providence Church.
Holladay's Addition
Ben Holladay bought land and started to develop it, with the first house having been built in 1871. About 500 homes were built in total. Holladay Park was a town square for Victorian colonial mansions, a major part of the development of the train going south from Portland and the bridge going across the river from downtown. Irvington Street car and Broadway Street car came to the Addition from what was the first Morrison Bridge street car and the river ferry from Portland.
By 1920, many of the former owners had moved to places like Dunthorpe neighborhood, so there was a question of what to do with hundreds of these large, swanky homes. Holladay had gone bankrupt with railroad development, so portions of Holladay's Addition were sold off. Ralph Lloyd ended up buying all the land and tore down 500 homes in the area for commercial development. The area had been cleared of the homes by the 1940s. Lloyd Center was built in the area in 1960.
Planning and Liveability
One of the interesting planning features is the use of cul de sacs. Between Northeast 21st and Northeast 28th Avenues, there are no outlets, except to either Northeast 21st, NE Weidler or NE Broadway. This intentional feature greatly reduces vehicle through-traffic and associated noise.
If you're ever at Hollywood Fred Meyer, you'll see enlarged historic photos of Sullivan's Gulch in the entryway and throughout the store. The area continues to evolve as new residential and commercial buildings are constructed. Contact me if you're interested in seeing what is for sale in this neighborhood. For more information about the Architectural Heritage Center, please visit their website.