August 7, 2019
Portland has experienced explosive growth over the last 20 years. This means some mainstays have weathered the influx of population, while new places have given us a fresh look at culinary experiences. Here is my list of top fives in the categories of donuts, dive bars, drinks, and dual-needs dining. Tell me if your favorites are missing from this list!
Donuts
Coco Donuts – Six locations in Portland where you can choose from cake or yeast. Apple fritter, hello!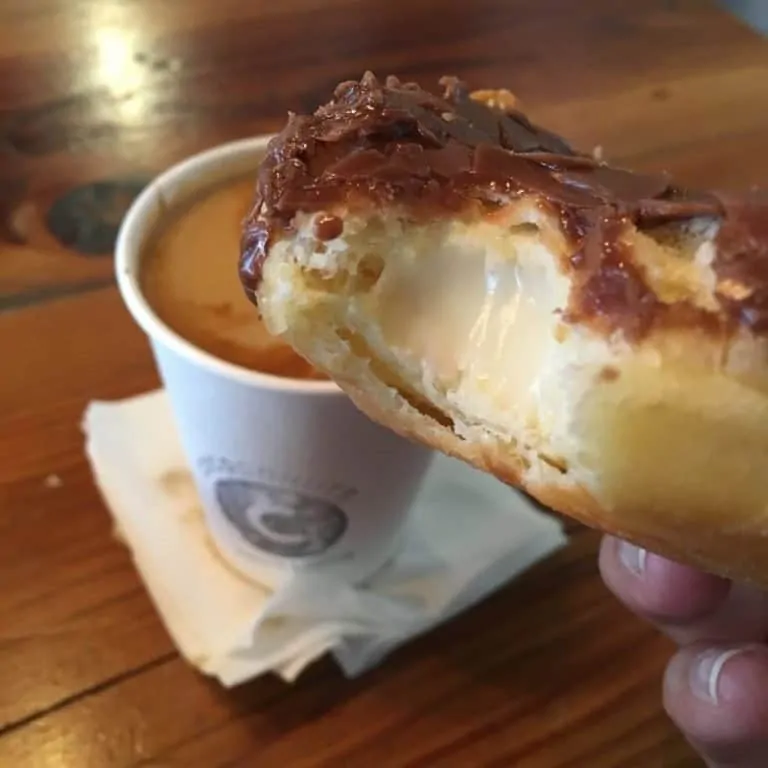 Blue Star – Known for their brioche-style donuts, Blue Star also has vegan options. Eight locations in Portland.
Sesame Donuts – Seven locations in the Portland-metro area, with one right downtown.
Pip's Original – This place always has a line on weekends, so better to visit during the week. 4759 NE Fremont
Annie's Donuts – My personal favorite! 3449 NE 72nd (at Sandy Blvd.)
Dive Bars
I've culled these selections to represent different neighborhoods across Portland. Enter at your own risk!
Goose Hollow Inn / Southwest – Founded over 50 years ago by former Mayor Bud Clark, the Goose Hollow Inn is a cozy local watering hole serving up sandwiches with carrot sticks in lieu of French fries. 1927 SW Jefferson St.
Rose & Thistle / Northeast – Going strong for over 25 years, the back patio of this place can easily accommodate large groups. 2341 NE Broadway

Rose & Thistle Pub
My Father's Place / Inner Southeast – Serving up copious amounts of grease and beer, you'll never know you are no longer in 1978. Rumor has it, the carpet was replaced recently. 523 SE Grand Ave.
Joe's Cellar / Northwest – a staple for Longshoreman and industrial graveyard shift workers (opens at 7 am), Joe's has pool tables, video lottery, cozy booths and a u-shaped bar for patrons' easy access to drinks. 1332 NW 21st Ave.

The Lodge Bar & Grill / Southeast – Spacious patio, occasional live music, pool table and breakfast, lunch, and dinner. 6605 SE Powell Blvd.
Drinks
Cabezon – hands down the best Old Fashioned I've ever had. Try the cioppino to get a taste of everything.
Taqueria Nueve – extensive tequila and mezcal offerings in a bright, colorful, airy setting. Within walking distance to Doug Fir Lounge if you're headed to a show.
Matador East – speaking of extensive tequila menu, this place also has an amazing happy hour food value. The watermelon aqua fresca is a great non-alcoholic option. Choose from eastside or westside location.
The Goose (formerly Esparza's) – Open for happy hour!
Teote House Café – Awesome back patio; counter service; gluten-free. 1615 SE 12th Ave.
When you've converted to veganism and your relatives visit:
La Cocina – No website to show you their giant menu, but they easily and willingly (gasp) accommodate dietary specifications. Open Monday – Saturday, 11 am – 9 pm; closed Sunday. 3939 NE Martin Luther King, Jr. Blvd.
Gravy – Mini iron-skillet-shaped crispy hash browns? Vegan or non-vegan namesake gravy? This breakfast joint has you covered. 3957 NE Mississippi and 3101 NE Sandy
Harlow – Vegan by default, adding eggs is optional. Breakfast and lunch. 3632 SE Hawthorne Blvd.
Laughing Planet – Super casual, quick lunchtime options that won't break your diet. Ten locations in Portland!
Shandong – Lunchtime is the best deal for this modern Chinese food joint, but dinnertime is also popular. 3724 NE Broadway
Honorable Mention goes to Eclectic Café for being a paleo-leaning casual eatery.