America: The Great Expanse. I moved around a lot as a kid, so it is no surprise my mom traveled to Williamsburg, Virginia from Billings, Montana to explore history through the lens of cooking. I was reminded of her travels (and subsequent published article) this Fourth of July holiday weekend. Independence Day celebrations have traditionally been a time for friends and family to gather at cookouts (or "barbecues", depending on where you're from) and an opportunity to share in traditions through cooking. I unearthed this article published in 1984 in The Billings Gazette when my mom, Judie Besso, taught cooking classes. The following piece highlights her travels to Williamsburg, Virginia, to experience early colonial history, specifically through food. I hope you enjoy the glimpse into culinary history below. Do you think you'll try these recipes? What are some traditional dishes your family enjoys? Drop me a line!
The Billings Gazette
Living Section, December 19, 1984
Story by Donna Healy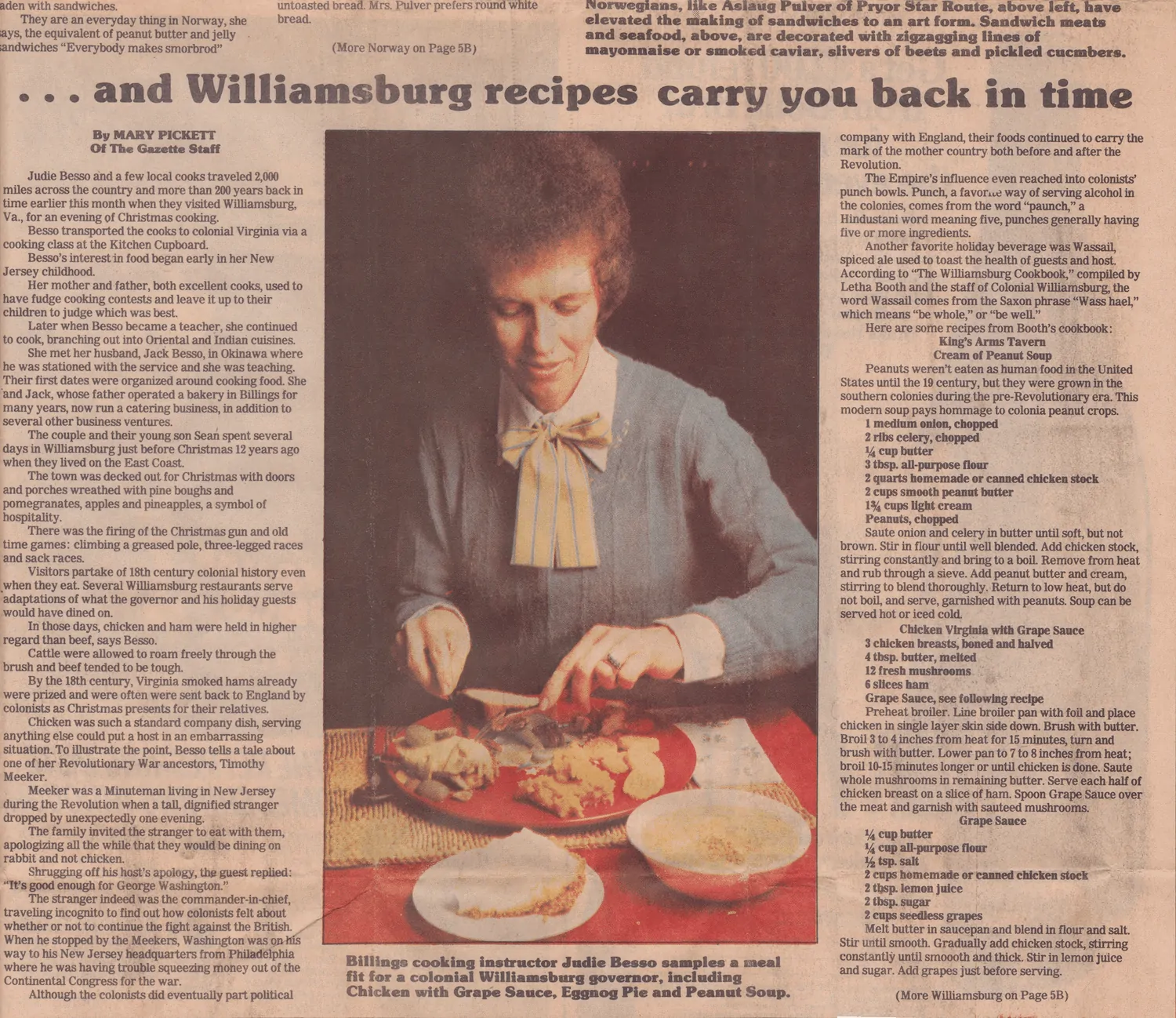 Judie Besso and a few local cooks traveled 2,000 miles across the country and more than 200 years back in time earlier this month when they visited Williamsburg, Va., for an evening of Christmas cooking. Besso transported the cooks to colonial Virginia via a cooking class at the Kitchen Cupboard.
Besso's interest in food began early in her New Jersey childhood. Her mother and father, both excellent cooks, used to have fudge cooking contests and leave it up to their children to judge which was best. Later when Besso became a teacher, she continued to cook, branching out into Oriental and Indian cuisines. She met her husband, Jack Besso, in Okinawa where he was stationed with the service and she was teaching. Their first dates were organized around cooking food. She and Jack, whose father operated a bakery in Billings for many years, now run a catering business, in addition to several other business ventures.
The couple and their young son Sean spent several days in Williamsburg just before Christmas 12 years ago when they lived on the East Coast. The town was decked out for Christmas with doors and porches wreathed with pine boughs and pomegranates, apples and pineapples, a symbol of hospitality. There was the firing of the Christmas gun and old time games: climbing a greased pole, three-legged races and sack races. Visitors partake of 18th century colonial history even when they eat. Several Williamsburg restaurants serve adaptations of what the governor and his holiday guests would have dined on. In those days, chicken and ham were held in higher regard than beef, says Besso. Cattle were allowed to roam freely through the brush and beef tended to be tough. By the 18th century, Virginia smoked hams already were prized and were often were sent back to England by colonists as Christmas presents for their relatives. Chicken was such a standard company dish, serving anything else could put a host in an embarrassing situation.
To illustrate the point, Besso tells a tale about one of her Revolutionary War ancestors, Timothy Meeker. Meeker was a Minuteman living in New Jersey during the Revolution when a tall, dignified stranger dropped by unexpectedly one evening. The family invited the stranger to eat with them, apologizing all the while that they would be dining on rabbit and not chicken. Shrugging off his host's apology, the guest replied: "It's good enough for George Washington." The stranger indeed was the commander-in-chief, traveling incognito to find out how colonists felt about whether or not to continue the fight against the British. When he stopped by the Meekers, Washington was on his way to his New Jersey headquarters from Philadelphia where he was having trouble squeezing money out of the Continental Congress for the war. Although the colonists did eventually part political company with England, their foods continued to carry the mark of the mother country both before and after the Revolution. The Empire's influence even reached into colonists' punch bowls.
Punch, a favorite way of serving alcohol in the colonies, comes from the word "paunch," a Hindustani word meaning five, punches generally having five or more ingredients.
Another favorite holiday beverage was Wassail, spiced ale used to toast the health of guests and host. According to "The Williamsburg Cookbook," compiled by Letha Booth and the staff of Colonial Williamsburg, the word Wassail comes from the Saxon phrase "Wass hael," which means "be whole," or "be well".
Here are some recipes from Booth's cookbook:
King's Arms Tavern
Cream of Peanut Soup
Peanuts weren't eaten as human food in the United States until the 19th century, but they were grown in the southern colonies during the pre-Revolutionary era. This modern soup pays homage to colonial peanut crops.
1 medium onion, chopped
2 ribs celery, chopped
4 cup butter
3 tbsp. all-purpose flour
2 quarts homemade or canned chicken stock
2 cups smooth peanut butter
1 ¾  cups light cream Peanuts, chopped
Sauté onion and celery in butter until soft, but not brown. Stir in flour until well blended. Add chicken stock, stirring constantly and bring to a boil Remove from heat and rub through a sieve. Add peanut butter and cream, stirring to blend thoroughly. Return to low heat, but do not boil, and serve, garnished with peanuts. Soup can be served hot or iced cold.
Chicken Virginia with Grape Sauce
3 chicken breasts, boned and halved
4 tbsp. butter, melted
12 fresh mushrooms
6 slices ham
Grape Sauce, see following recipe
Preheat broiler. Line broiler pan with foil and place chicken in single layer skin side down. Brush with butter. Broil 3 to 4 inches from heat for 15 minutes, turn and brush with butter. Lower pan to 7 to 8 inches from heat; broil 10-15 minutes longer or until chicken is done. Sauté whole mushrooms in remaining butter. Serve each half of chicken breast on a slice of ham. Spoon Grape Sauce over the meat and garnish with sautéed mushrooms.
Grape Sauce
¼ cup butter
¼ cup all-purpose flour
½ tsp. salt
2 cups homemade or canned chicken stock
2 tbsp. lemon juice
2 tbsp. sugar
2 cups seedless grapes
Melt butter in saucepan and blend in flour and salt Stir until smooth. Gradually add chicken stock, stirring constantly until smooth and thick. Stir in lemon juice and sugar. Add grapes just before serving.
Published July 2020