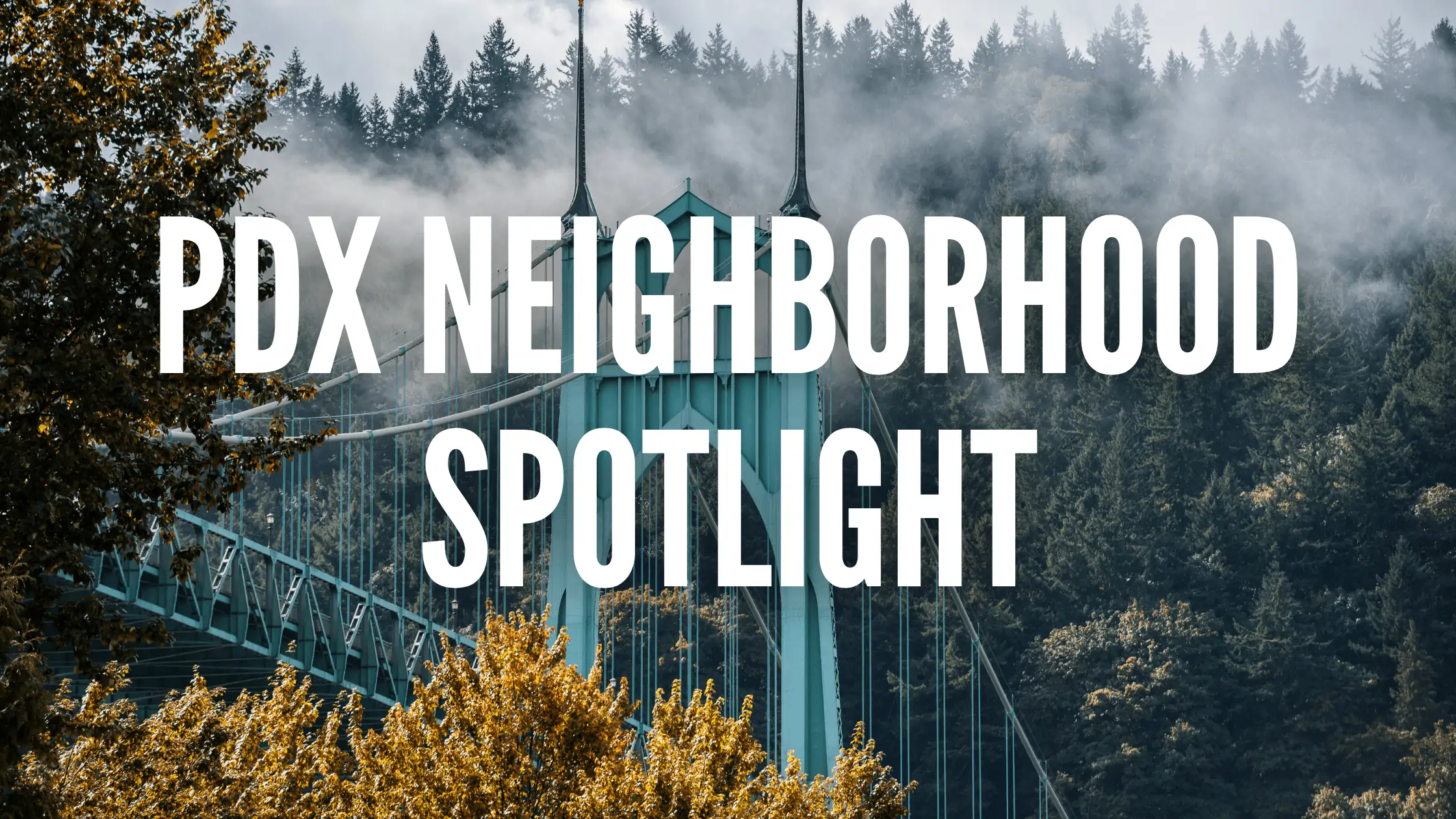 For this month's PDX Neighborhood Spotlight, I'm highlighting the lovely and full of small town charm St. Johns neighborhood.
About St. Johns
Located in North Portland, St. Johns is on the tip of the peninsula formed by the convergence of the Willamette and Columbia Rivers. It was a separate, incorporated city from 1902 until 1915, when citizens of both St. Johns and Portland voted to approve its annexation to Portland.
St. Johns is named in honor of settler James John who made his way to the Pacific Northwest from Missouri in 1841. After his death, John left his remaining personal property to the township of St. Johns to use to build a public school. It was John's wish that children of all religious denominations could study together and receive an education that stressed the importance of civic engagement. St. Johns was officially recognized as a municipality by the Oregon State Legislature on January 5, 1902.
As of the 2010s, there has been a lot of new development in Portland and St. Johns is one of the most rapidly developing parts of Portland. Downtown St. Johns consists primarily of boutique shops and individually owned and operated restaurants, including two theater pubs, while the northern portion of the neighborhood gives way to a vast industrial landscape of warehouses, parking lots, and cargo & shipping facilities, including the Rivergate Industrial District of the Port of Portland.
The most notable feature of St. Johns is the tallest bridge in Portland, the St. Johns Bridge. Designed by internationally renowned engineer David B. Steinman and Holton D. Robinson, the St. Johns was the longest suspension-type bridge west of the Mississippi River at the time of construction.
Parks
There are many beautiful parks and natural areas in St. Johns, including Pier Park, the Columbia Slough, Kelley Point Park, and The Smith & Bybee Wetlands Natural Area. It is also very close to Cathedral Park and Baltimore Woods in the Cathedral Park Neighborhood and right across the river from Forest Park. Upon entering St. Johns there is a conspicuously placed sign in the traffic median which says, "Welcome to the Peninsula, Gateway to Nature". Sightings of bald eagles and other birds of prey are common. Chimney Park is a great place to take your furry friends and is also the ending point for the Pier Park Loop Hike. The Pier Park Loop Hike is around 2 miles and starts at Pier Park Trailhead.
Are you a lover of jazz music? Jazz Society Oregon hosts the annual Cathedral Park Jazz Festival every July for FREE! The 2021 festival will run July 16th – July 18th. You can check out this year's lineup here.

Via Another Believer – Own work, CC BY-SA 3.0, https://commons.wikimedia.org/w/index.php?curid=11246914
St. Johns Parade & Farmers Market
Starting in 1962, St. Johns holds an annual parade consisting of homemade floats, family friendly celebrations, and is an all around great way to meet your neighbors & support local businesses.
The parade takes place on the second Saturday of May, but due to COVID-19 restrictions, the parade has been postponed until May 2022.
You can find more information on this event and event COVID-19 updates here.
The St. Johns Farmers Market usually runs from the middle of May to the end of October and is located in the St. Johns Plaza every Saturday from 9 am – 2 pm.
Food/Drink
Tienda Santa Cruz – An unassuming Mexican grocery store where you will find some of the best tacos in all Portland. Be sure to pick up some house-made Mexican breads as well!
Signal Station Pizza – Previously an old abandoned gas station, Signal Station Pizza is a local favorite. I recommend the Willamette and the No. Portland Special pizzas.
Homegrown Smoker – Vegan? Homegrown Smoker has delicious BBQ for you!
Leisure Public House – Great place to grab a cold beverage and play ping pong or bocce ball with friends. I recommend the Mezcal Old Fashioned or a Boozy Popsicle (especially in this heat!). Tuesdays are trivia nights.
St. Johns Theater & Pub – Once the National Cash Register Building at the 1905 Lewis and Clark Exposition, it attracted over two million people to NW Portland during the World's Fair. You can find out more about it's history here. Now a McMenamin's, you can catch a movie in the theater or enjoy a nice outdoor lunch with friends and family.
Shops
Vinyl Resting Place – One of the oldest used record stores in Portland. The name alone should be enough to go in and take a peek at their selection. Twice a year they hold a "$1 Record Sale".
Blue Moon Camera & Machine – Home of the International Camera Museum, Blue Moon Camera is an all-analog camera shop that sells photo equipment, typewriters, books and more.
Salty Teacup – Quirky boutique featuring whimsical gifts and cool vintage finds.
Revolutions Bookshop – Independently owned bookstore specializing in a curated selection of mostly used books, some new books, vinyl, and collectibles.
Market Stats
Right now, the average price of a home in St. Johns is approximately $477,000 with over 80% of homes selling over asking price. Like I've mentioned before – it's a seller's market! Click here for a free home valuation.
References: Wikipedia, TravelPortland.com, and ColumbiaRiverImages.com